Description
ShiftX3 adds an ultra-bright sequential shift light, twin alerts, and a 7 segment LED display for your RaceCapture system
Features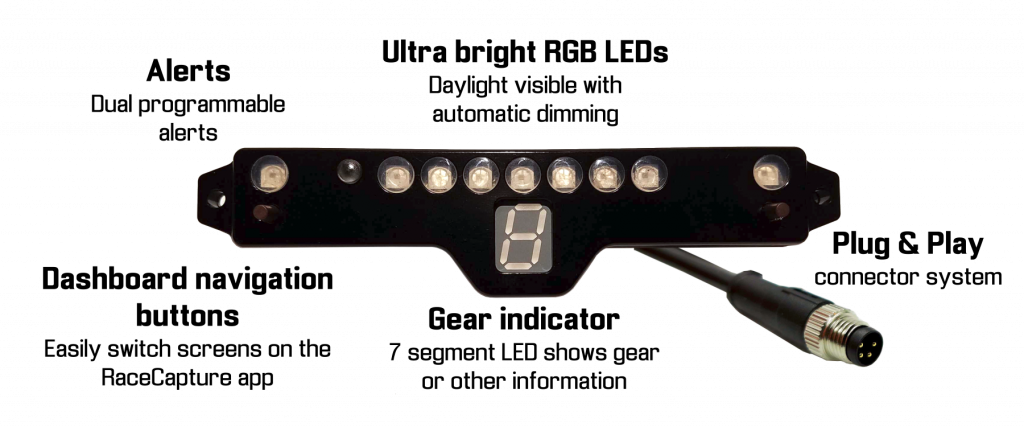 Ultra bright, daylight-visible RGB LEDs
ShiftX3 includes 7 ultra-bright daylight-visible RGB LEDs that will be sure to grab your attention!
Configure color, segment length based on RPM, and flashing pattern.
Twin RGB Alert LEDs
Two ultra-bright RGB Alert LEDs flanking the display can be configured to trigger on any sensor value. You can customize color and flashing pattern for multiple threshold levels!
7 Segment Display for Gear or other channel
Use the 7 segment display to indicate current gear, or any other information you want to display.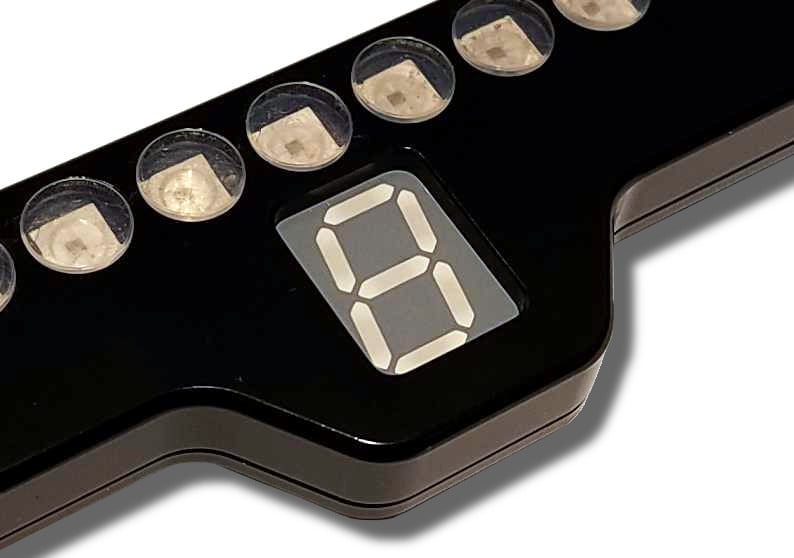 Left / Right Navigation buttons for switching dashboard screens
Automatic dimming for night racing
A light sensor is included to automatically dim the LEDs and display for comfortable low-light operation.
Plug and Play CAN bus connection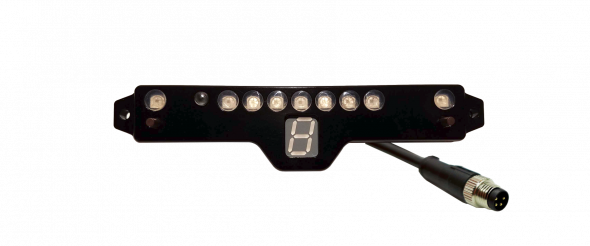 No splicing, soldering, crimping – it just connects together with our plug and play connector system!
To connect with your plug and play RaceCapture or PodiumConnect system, we recommend the following parts:
* CAN1/CAN2 splitter
* Power+CAN extension cable (pick the length that works for your installation)
* Inline Terminator (place at the end of the CAN cable, near ShiftX3)
For previous generation, non plug and play RaceCapture systems, we recommend:
* Inline Terminator (place at the end of the CAN cable, near ShiftX3)
* Device power pigtail
Use these to hard-wire to the CAN2 connection of your RaceCapture system. See the installation guide for more details.
Fully Customizable through Lua scripting
Our powerful Lua scripting lets you fully customize ShiftX3's behavior. Our convenient presets lets you choose a pre-made script that will get you started quickly!